Finding a job in Canada may be different than in your home country and you may need help finding job vacancies, updating your resume, writing cover letters, preparing for interviews, and understanding what Canadian employers are looking for.
We have prepared an engineering ebook full of valuable information that will make the process of becoming an engineer in Canada as smooth as possible.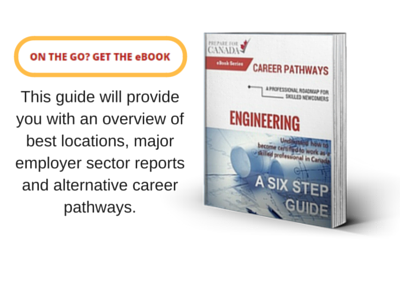 The National Occupational Classification (NOC) is Canada's reference on occupations. It provides job descriptions, occupational statistics and labour market information.
The NOC classifies the following engineering occupations in Canada:
Civil engineers
Mechanical engineers
Electrical and electronics engineers
Chemical engineers
Industrial and manufacturing engineers
Metallurgical and materials engineers
Mining engineers
Geological engineers
Petroleum engineers
Aerospace engineers
Computer engineers (except software engineers and designers)
Other professional engineers, n.e.c.
http://youtu.be/YYAsLxlMEbE
Credentials Recognition
One of the first things you need to do is to find out the requirements to work as an engineer in Canada. Therefore, after you get your immigration visa, get in touch with the regulatory body in the province or territory where you intend to settle in Canada. They will advise you about the required documentation and the fees for assessment. It is highly recommended that you take this step before you arrive in Canada.
You may be asked to submit some or all of the following:
Original diplomas, degrees or full transcripts recording your course and marks, and the official program syllabuses or course descriptions.
Full address of the educational and professional institutions where you obtained your engineering qualifications.
Employment and character references
All documents must have certified English or French translation (depending on the province).
The association will review your university background, assess your academic qualifications and may assign an examination program to ensure that academic requirements are met.
The examinations assigned will be based on your claim discipline or specialty of intended work.
Examinations are held once or twice a year, depending on the jurisdiction.
Contact the professional association in the province or territory you will settle in before you move to get more information about the schedule of exams and take that into consideration when deciding the actual date of your departure to Canada.
Note that it is only engineers that require an Engineering license to practice in Canada. Engineering Technicians and Technologists are not regulated but are certified instead. They may be asked to produce a Technologist/Technician Certificate, which is voluntary and is offered in each province by the provincial associations.
It's important not to rush your application and only do that once you are fully aware of the licensure procedure and the regulatory body's expectations from you.
Credentials Assessment Services
If you are planning to enroll in a college or university program to upgrade your skills, contact the institution in which you plan to study and find out the steps you should take and the credential assessment agency you should use.
World Education Services (WES) – Ontario
International Qualifications Assessment Service (IQAS) – Alberta
The International Credential Evaluation Service (ICES) – British Columbia
The Canadian Information Centre for International Credentials (CICIC)
The Alliance of Credential Evaluation Services of Canada
To find more organizations and agencies providing credential evaluation, assessment and qualification recognition services click here. You can also visit the Foreign Credentials Referral Office for information, path-finding and referral services on foreign credential recognition to help internationally trained workers like you succeed and put their skills to work in Canada more quickly.
Best Locations
Most Canadian cities offer employment opportunities in the engineering sector and the demand for each occupation varies from one province to the other. However, the provinces of Alberta and Saskatchewan offer a real concentration of employment opportunities, especially in the construction, mining and energy sectors. Northern Ontario offers as well opportunities in the mining sector.
When looking for jobs, broaden your geographic area to include smaller cities close to your target city. For example, if you intend to work in Toronto, you might find a job opportunity in the nearby city of Hamilton, which is less than an hour's drive from there.
Find out where there is demand for your engineering profession in Canada and accordingly decide where you want to settle.

Major Employers
Professional engineers can be employed at construction companies, manufacturing companies, public power generation and utilities companies, mining companies, various levels of government, consulting engineering firms. They can also be self-employed.
In Canada, the demand for engineers is especially high at the middle level, because of retirement. Companies are having a big challenge to find senior level engineers. Though you might not get a senior level job immediately, it's good to start at a bit lower level and work your way up in a few years.
You can get lists of engineering firms in different Canadian provinces by clicking the links below:
Alberta
B.C.
Ontario
Saskatchewan
You can also visit the Best Employers for New Canadians website. This special designation recognizes Canada's best employers for recent immigrants. These employers offer interesting programs to assist new Canadians in making the transition to a new workplace — and a new life in Canada.
Another website to check is TRIEC's Immigrant Success Awards  which recognizes employer leadership and innovation in recruiting and retaining skilled immigrants in the Greater Toronto Area.
Sector Reports
Labour market study shows engineering market skills shortage and job growth
The "Engineering Labour Market in Canada: Projections to 2020" report released by Engineers Canada shows Canada is facing a short supply of engineers with more than 10 years of specialized experience.
The report projects 95,000 professional engineers will retire by 2020. It adds that the country will face a skills shortage because the workforce cannot be replaced fast enough by incoming Canadian or experienced internationally trained graduates.
The report found that supply and demand imbalances are becoming more serious. While engineering labour market conditions vary from region to region, markets must find ways to strike a balance between retiring workers and training incoming graduates and international engineers interested in working in Canada.
Other key findings of the report include areas of job growth due to investment in resources, utilities and infrastructure. This is particularly evident west of Quebec, meaning engineers who are willing to move will find many prospects. In terms of immigration, experienced and specialized engineers will have better job prospects in Canada, as employers have recruiting needs for specific projects, but markets will be weaker for new graduates.
Read the full report here.