Scotiabank is Canada's most international bank, with operations in more than 55 countries (including India). We have been servicing customers for 180 years. Our 75,000 employees worldwide speak a wide range of languages. In Canada, Scotiabank has over 1,000 branches and 3,000 Automated Bank Machines (ABMs).
At Scotiabank, we know that planning and the right advice can build a strong foundation for your immigration journey and that is why we genuinely support the Canadian Immigrant Integration Program (CIIP) and applaud your efforts to participate in the Know Before You Go pre-immigration webinar.
Download the Know Before You Go workbook today to learn how you can best prepare for your future in Canada.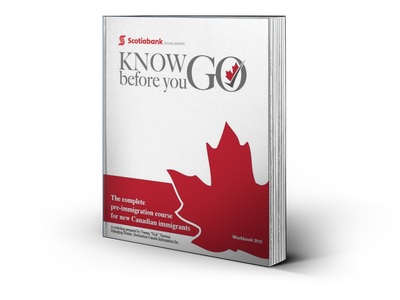 The Scotiabank StartRight ® Program for Newcomers has been created specially to help make settling in Canada easier. By registering for a Know Before You Go webinar, we can keep in-touch with you.
While Canada welcomes you to a new country, Scotiabank welcomes you home!
The Scotiabank StartRight Program has products and services to help permanent residents/landed immigrants, foreign workers, and international students get started in Canada, including:
$100 when you open an eligible chequing account2,
a credit card3 that meets your needs as a newcomer and helps you build your credit history,
a free small safety deposit box for one year4
And, more complex products to help you plan for your dreams. The Scotiabank StartRight Program can help you enjoy each milestone in your new country. To learn more, visit Scotiabank StartRight   and, for those of you in India, visit a Kotak Mahindra Bank representative who can assist you with our Scotiabank StartRight International Account Opening Program.
1 – The Scotiabank StartRight Program, created for Canadian Landed Immigrants from 0-3 years in Canada, International Students and Foreign Workers. The Scotiabank StartRight Mortgage Program, created for Canadian Landed Immigrants and Foreign Workers from 0-5 years in Canada.
2 – Offer available when you open a new Scotia® MoneybackTM Account, Scotia OneTM Account or Basic Banking Plan (each an "Eligible Account") with Scotiabank. Employees of The Bank of Nova Scotia ("Scotiabank") and individuals who are currently holders or joint holders of an Eligible Account, are not eligible. Maximum one offer per customer.The Eligible Account must be opened and be in good standing until time of payout. Eligible Account is not in "good standing" if (i) it has a negative balance exceeding the authorized overdraft limit, (ii) it is closed to service charges or (iii) it has an unauthorized overdraft written off status. The $100 bonus will be deposited into the Eligible Account within 120 days of the account opening. This offer is non-transferable and cannot be duplicated or combined with any other offer. Scotiabank may withdraw or change this offer at any time without notice. Please see the Day-to-Day Banking Companion Booklet for further details about these accounts and fees.
3 – Subject to meeting Scotiabank's credit criteria and security requirements. An unsecured credit card may be available up to certain credit limits; a secured credit card requires security equal to 100% of approved credit limit for Foreign Workers and Permanent Residents and 120% of approved credit limit for International Students. VISA card security can be cash security, Canada Savings Bonds or Guaranteed Investment Certificate. In addition, to be eligible for a personal borrowing product, you must be a Canadian resident and have reached the age of majority.
4 – Subject to availability and signing the Safety Deposit Box lease.
5 – Currently the Auto Finance Program is available through the following car dealerships in Canada: Kia, Chrysler, General Motors, Hyundai, Jaguar/Land Rover, Mazda, Mitsubishi and Volvo. This program is only available for Landed Immigrants and Foreign Workers. Subject to Scotiabank financing terms and conditions. Down payment required.
6 – Applicable to residential mortgages only and subject to Scotiabank lending criteria for residential properties. CMHC/Genworth Financial Canada mortgage default insurance may be required for Loan to Value ratios (LVRs) greater than 50% to a maximum of 95%. Maximum LVRs available may be less than 95%
® Registered trademarks of The Bank of Nova Scotia.
™ Trademark of the Bank of Nova Scotia
◊ Interac Inc. owner of Mark INTERAC. The Bank of Nova Scotia authorized user of Mark.
* VISA Int./ Lic. user The Bank of Nova Scotia.
§ Ranked by Canadian Business magazine and the Reputation Institute.
¥ Ranked by renowned International Consulting Firm, Oliver Wyman, 2009.